On Ireland, War, What We Take, and What We Leave Behind
There are times I mill around for days, wondering what I could possibly share here. Life settles into a rhythm so familiar, so mundane, it's hard to cut through the quiet and hear the song.
And then there are days like today. (But I'm getting ahead of myself.)
Since I last wrote, Cory and I flew to Ireland for a week. It still feels utterly surreal. We found a deal on the internet so good, it probably should have scared us. We booked flights on an optimistic whim, along with two friends from our neighborhood and church, then went about our lives. Two weeks later, Omicron hit, and I pushed Ireland out of my mind, hardly thinking about it as the virus overtook the jail and Cory was once again sent home, unable to do the part of his job he loves most.
In the end, the timing was as good as we could have hoped. Thanks to high vax rates and general compliance country-wide, Ireland lifted their restrictions two weeks before we traveled. Our first night in Adare, a tipsy woman who may or may not be named Phyllis (we genuinely aren't sure - it's complicated) invited us around the fire in a cozy pub and begged us to sing for her. We took her up on the fire but declined the singing, and when we did, she spiraled into despair over how things had changed since the pandemic, how it had been too long since they sang around the fire. She cried actual tears, not interested in masking her disappointment in us. "I thought you would save Ireland. I thought you would take us back to the way it was."
Aside from Phyllis' eventual backwards topple from her stool (she's fine,) the trip was an uncontested success. Nothing went wrong, and if you've ever traveled with me, you know mild travel misfortune follows me like the contrails behind an Airbus. We each dreamed of different things - hikes through Cork's marshy lowlands, pints of Guinness in dimly-lit pubs, damp castles and brown bread. My dream was (of course) a perfect bowl of Irish stew.
(The daffodils and snow drops were a bonus.)
The morning we left for a day-trip to the Cliffs of Moher, we hit an early detour. As we made a sharp left, I glanced ahead at flashing emergency lights and what was once a car but now looked like a crumpled soda can. An hour later, over breakfast, we saw the TV headline that a local 12-year old had been killed in an automobile accident in the midnight hours.
I scoured the news in the days that followed, unable to forget about this national tragedy that happened one mile from where we'd slept. Wiktor's family had come to Ireland from Poland not long before. No one seemed to know why the 12-year old was out driving, much less in the middle of the night. But the part that struck me, and shakes me still, is that no one seemed particularly focused on that piece of the puzzle.
"A Limerick priest who gave the Last Rites to a 12-year-old boy killed in a head-on collision with a truck said everyone was deeply moved by the courage and dignity of the boy's family at the scene of the horrific accident."

"I went and anointed him and said some prayers over him… he's just a child…We gave them some moments of privacy and then I went over, I spoke to them and we prayed - I invited them to pray in Polish as well. It was so harrowing."

"The Adare priest said he had always 'hoped and prayed' that such a tragedy wouldn't come to "our door" but called on the local community, particularly the Polish community in Co Limerick, to rally around Wiktor's family."
Nearly two weeks later, Wiktor is buried somewhere in the Irish hills. He was "remembered for his kindness." Meanwhile, the grief of his family quietly throbs. (Can you feel it?)
I've found a line or two that mentions the ongoing investigation. Mostly, I read about a rattled community, priests and teachers consoling Wiktor's classmates, his father carrying an undersized casket as his mom and little sister hold hands in its wake.
At every turn, the focus is the humanity of it all. The loss. The horror. The compassion. The pain.
It's difficult to imagine what it would take for our culture, our nation, to somehow learn from their example.
~
We spent part of our last full day in Ireland puttering around. Dotted across Limerick's historical arteries and limestone edges lives a collection of street art, fluorescent and raw, a reminder of what is juxtaposed against all that has been, and will continue to be. I wanted to see all of them.
Later, tucked into a corner of an Adare tea shop that was more polished than I wanted anything in Ireland to be, I discovered a trove of original watercolor paintings marked for sale. I ignored any thoughts of the dismal exchange rate and spent at least an hour looking at each one. I settled on two pieces. One is a still-life of roses with "Watercolor by J. Fitzharris" scrawled on the back in pencil. The other is simply inscribed, "Irish Watercolor." The bottom corner was not only left unsigned, it was left entirely unfinished. No doubt, that's what drew me to it.
Maybe I'll always be a sucker for the underdog. I'll continue to buy the dented can of tomatoes at Kroger. The chipped vase at the thrift store. The quilt with frayed seams. (I hope so.) This painting, perhaps less desirable to some, helped me see that what we leave unfinished often says as much about us as what we tidy up with closure and bows.
I look at the roses and I see beauty.
I look at the incomplete landscape, and I cannot help but see the silhouette of the one who held the brush.
~
We spent last night in a church basement that smells like the 80's, with a small huddle of men who have been or currently are incarcerated. Week after week, they say things like, "I'm getting out soon," "I rebuilt my entire life while I've been in work release," "My kids are struggling," "Pray for my girlfriend/brother/bunkie," "I'm trying to find my way back to God."
There's a part of me that's often curious about their backstory. I want to know what they did, or what someone said they did.
I hope you know me well enough to believe this impulse isn't born of some urge to judge as much as ordinary nosiness. (I wish I was honest enough to admit that ridding ourselves entirely of judgment appears, so far, to be impossible.)
We aren't used to leaving facts un-scrutinized.
We aren't comfortable with unfinished work.
This morning I awoke to a world at war, stories of explosions and a modern city on the run. The most dangerous question we can ask ourselves today is, "How might this affect me?" The better questions, the ones more likely to leave a mark are, "Where are the mourners? How might we join them?"
~
We are always leaving evidence and picking up clues. The things we say, and don't say. What we do, and don't do. The beliefs we carry, and the ones we aren't brave (or dumb) enough to say out loud.
Along with the two paintings, I brought home a wonky thrift store plate, a framed oil-painting from a charity shop, a wool blanket, a pair of socks, and a tin of Irish Breakfast tea.
But even more than souvenirs, I hope I brought back a better vision for complexity and shared grief, passed on from the Irish people as my feet left dents in their good earth.
We can rush to consolation rather than judgment.

We can drive into the darkness and offer our presence rather than assigning blame.

We can choose to come together, no matter the headlines, in remembrance that no life is more or less valuable than the next.
Limerick, Kyiv, Goshen. We are all casting contrails into the same gray-blue sky. We are connected, whether we see it or not, leaving our fingerprints on this atmosphere of each other.
---
Odds + Ends
:: I recently posted a two-part Grocery Store Parable on Instagram and it sort of went wild.
Part I: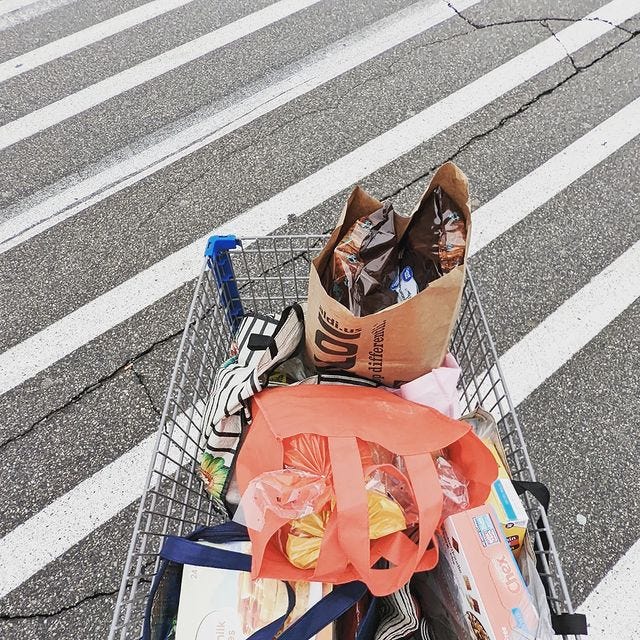 Part II: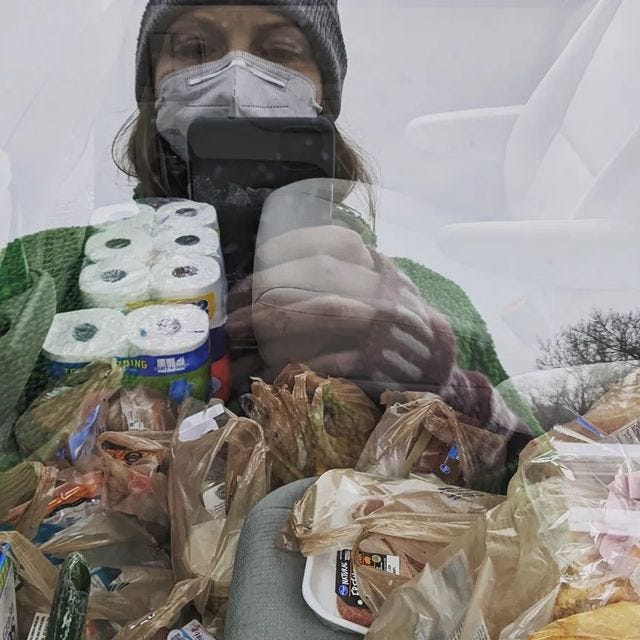 :: Speaking of Instagram, the secret's out! Paid subscribers to The Soup (what we call The Secret Soup) also get access to our private Secret Instagram. (It was the only place I shared our Ireland trip in real time.)
:: It was my intense pleasure to be the only author invited to present my forthcoming book (title and cover coming soon - you'll be the first to know!) at the Baker Publishing sales conference. I had ten minutes to get them uber-excited about this project. It worked! Want to know what sealed the deal? Talking about us - this email neighborhood we've built together. (I went slightly rogue at the end and pulled on my famous red ball cap to illustrate how we really roll and that what matters more to me than a big audience is consistent, authentic connection. The crowd went wild.)
We also spent a full work-day plotting and scheming and planning its release. I CANNOT WAIT to share more.
:: I baked this Apple Sour Cream Kuchen over the weekend. As you can see, I actually overbaked it. But! It was still delicious warmed up the next morning and enjoyed with a Sunday cup of tea.
:: After losing a month of our television lives to Amy's spectacular Jeopardy! winning streak (#neverforgetbangladesh) we discovered the new ABS sitcom Abbott Elementary (streaming on Hulu.) It is A DELIGHT. Sort of like The Office, but maybe even better.
Lastly, here are two books I'm enjoying right now.
:: In the Shelter by Padraig O'Tuoma
(For those paying close attention, I'm actually re-reading this one. O'Tuoma is Irish, which made it a perfect companion for our trip. It's rare for me to re-read a book. When I do, take note.
:: Good Enough by Kate Bowler and Jessica Richie
I'm smitten by this "devotional for a life of imperfection." At a time when my faith feels a little blurry, it is solace (and humor) for my weary soul. "One of the most counterintuitive parts of the Christian tradition is its emphasis on progress when it doesn't believe in absolute perfection. Jesus alone is perfect. But we are asked to try and try and try again. We are required to walk toward God to the steady drumbeat of improvement…We will have to find enough momentum to reach for a faith that is never perfect, but good enough." I'm not far into the book yet, but I know I'll make my way through its entirety. Coming from someone who often gives religion (not Jesus!) the side-eye, that's not nothing.
That's all until next time! I'd love to hear what you're all up to. How are you feeling? Is it Spring where you are? (In this very moment fat snowflakes began falling from the sky. Jesus be a quick journey to April!) Tell me everything in the comments.
Love you all,
Shannan